Geographies of Justice: Call for Submissions
Editor: Alexis Lathem
Assistant Editors: Richard Cambridge & Charles Coe
Open for submissions on December 15, 2020
All submissions are due by March 1, 2021
Submissions are now closed. Thanks to everyone who submitted! Geographies of Justice will be published in early May.
---
Geographies of Justice
After four long years, we have scaled the mountain. But beyond mountains, there are more mountains. The Haitian proverb can be read many ways: it can mean that only by surmounting one obstacle can we arrive at a clear view of the next one, that the challenges are never ending. Or, that every challenge is, equally, an opportunity. It can also suggest the ways in which the mountains we face form broader patterns, shaped as they are by the same forces (racism, capitalism) that divide us and erode the basis of future life on Earth.
About Place Geographies of Justice issue seeks work that re-imagines the maps that divide us into the privileged and the disadvantaged, that value some lives more than others; work that exposes systems of medical, environmental, and economic apartheid. We look for work that opens itself to the larger world, that takes the long view, that peels back the maps imposed through historical and ecological violence and shows awareness of who and what was here before. Work that is located in sacred geographies, that has come from the difficult ascent, work that is visionary. Send us your poems, essays, stories, artwork and multimedia born from your ascents and descents, your passage through the hollows of grief, your moments of transcendent vision. Give us the view that will take our breath away.
Issue Editor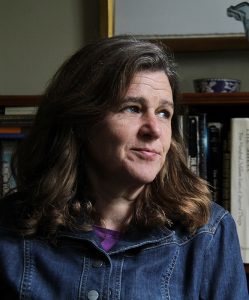 Alexis Lathem is an environmental journalist, essayist, author of the poetry collection Alphabet of Bones (Wind Ridge) and two chapbooks, and is currently working on a collection of lyric and documentary essays on ecological themes. Her poems and essays have appeared or are forthcoming in About Place, AWP Chronicle, Beloit Poetry Journal, Chelsea Review, The Hopper, Hunger Mountain, Gettysburg Review, Saranac Review, Spoon River Review, Solstice, Stonecoast, West Branch and other journals. She has worked in support of environmental, food justice, and Indigenous sovereignty movements for many years, and is currently active in climate justice work, and with her faculty union's Anti-Racism Working Group. She lives on a small farm in Vermont and teaches at the Community College of Vermont. She is a 2018-2021 Black Earth Institute Fellow.
Assistant Editors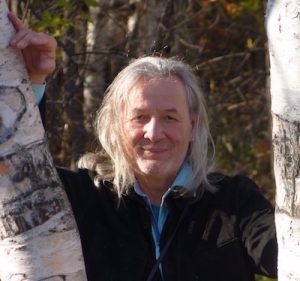 Richard Cambridge's poetry, novels, and theatre productions address controversial themes on the American political landscape. His theatre-troupe Singing with the Enemy portrayed the fifty-year blockade of Cuba, and the plight of political prisoners in the U.S. As an "installation artist" he reclaims and alters private signage to inspire public debate. His current project is a collaboration with Swiss musician singer-songwriter George Hennig, writing lyrics for an album to be released in the spring of 2021.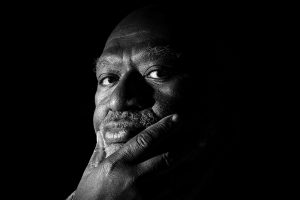 Charles Coe is the author of three books of poetry: All Sins Forgiven: Poems for my Parents, Picnic on the Moon, and Memento Mori, all published by Leapfrog Press. He is also author of Spin Cycles, a novella published by Gemma Media. Charles was selected as a Boston Literary Light by the Associates of the Boston Public Library and is a former artist fellow at the St. Botolph Club in Boston. A short film by filmmaker Roberto Mighty, "Peach Pie," was based on his poem, "Fortress" and has been shown at film festivals nationwide. Another short film, "Charles Coe: Man of Letters," also by Roberto Mighty was featured at the 2020 Roxbury Film Festival. Charles was a 2017 artist-in-residence for the city of Boston, where he created an oral history project focused on residents of Mission Hill. He is poetry editor of "Multiplicity," an online literary journal published by Bay Path University in Longmeadow, Mass. Charles has served as poet-in-residence at Wheaton College and at the Chautauqua Institution in New York State and is an adjunct professor of English at Salve Regina University in Newport, Rhode Island, and Bay Path University, where he teaches in both MFA programs.
---
About Place Journal Submission Guidelines
About Place Journal is published two times a year, on May 1 and October 1. A new Call for Submissions is posted twice a year.
Work can include:
Poetry/Lyric: up to 3 pieces which do not exceed 50 lines each. Acceptable file types include doc, docx, txt & rtf.
Fiction, essays, creative nonfiction and other prose: up to 3 pieces which do not exceed 4000 words each. Acceptable file types include doc, docx, txt & rtf.
Audio/Visual artwork: up to 5 photos, paintings, prints or other forms of art. Acceptable file types include jpg & tiff for art/photography, mp3 for audio and mp4 & mov for video.
Each submission must be accompanied by a bio in doc, docx, txt or rtf format. Bios should be in the third person and not exceed 150 words. Please include your website and twitter handle, if desired.
By submitting, you guarantee you hold the rights to the work, and you grant About Place Journal the rights to publish the submitted work. After publication, rights revert to the author. Original, previously unpublished work only. All pieces must be submitted through Submittable.
---
Share: