Edward A. Hagan

Bà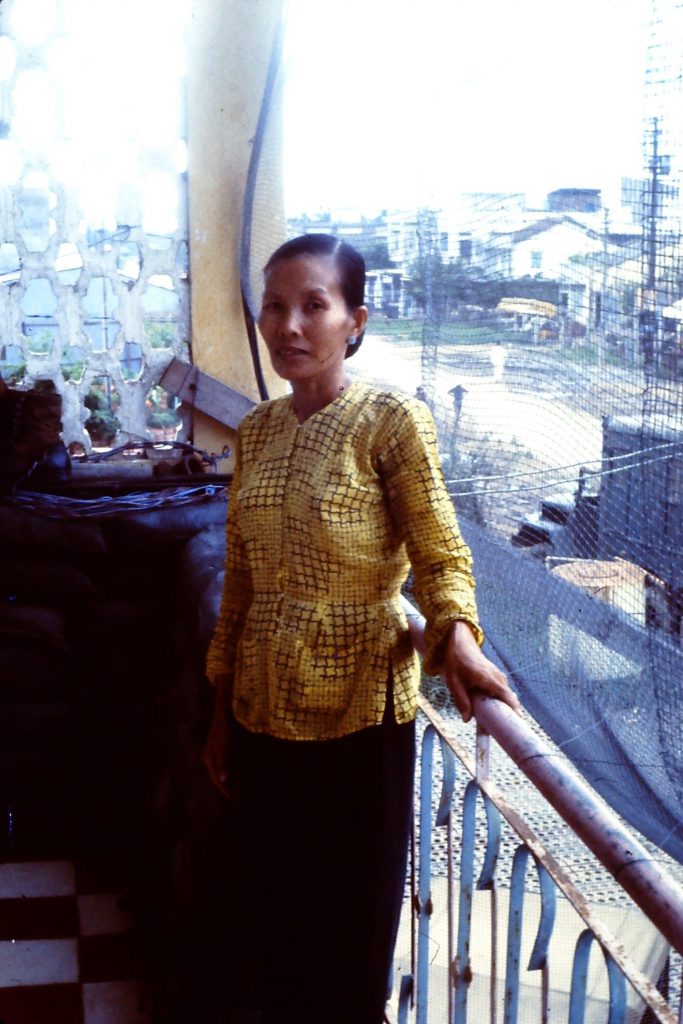 The woman in this photograph shined my boots six-days-a–week from October 1969 to October 1970. I saw her at least twice every day except Sunday.

I never learned her name.

I was a U.S. Army intelligence officer, an advisor to the Vietnamese local forces in Can Tho, Vietnam, the capital city of the Mekong Delta. She cleaned the second floor of the officers' quarters of Advisory Team 56. We lived right in the city in a rented, three-story private house that we called the Team House. We worked in Vietnamese offices and went out on combat missions with Vietnamese military counterparts. Moved by fealty to solidarity with our allies in the Southeast Asia Treaty Organization (SEATO), we were supposed to be creating a post-French equitable society.

I don't know how we could be building a community when we established no personal relationship with the people we worked with every day. On some level the Vietnamese weren't there, and they, for their part, seemed to act like we weren't there either.

This woman would greet me and the other officers every day with a friendly smile, but communication went no further because we couldn't speak Vietnamese and she only knew a couple of words of English. We said, "Chào," and she said, "Hello." There might have been a desire for a more substantial relationship, but neither she nor we acted on it.

I saw her photograph a few months ago when Ben Nelson, a fellow former officer, sent it to me. She came back to me in a flood of memories. We called her "Mama-san," and I wonder if the term itself reflected the wish of American men for a surrogate mother figure in her apparent but purchased kindness. We were being polite and friendly, not salacious at all, although the term is used in some Asian countries to denote the madam of a brothel. As Americans used the term in Vietnam, it simply referred to an older Vietnamese woman, often like the woman in the photo, a cleaning woman. "Mama-san" apparently derives from the American post-World War II occupation of Japan. The woman in charge of a geisha house would be so addressed by American soldiers. But there's no telling how the Vietnamese women felt about being so called. I found out that an older married woman should be addressed as "Bà," so I started to use that term. I'd say, "Chào, Bà." But I can't claim to have been especially virtuous.

Our Team House was guarded by hired Vietnamese civilian guards too old to be on active duty in the South Vietnamese army (or the Viet Cong either). I remember especially a middle-aged guard at the front gate who used to snap to attention each morning when I would cross the street to the mess hall. I didn't know his name either. He would salute me in the French manner, i.e., with the palm outwards (Americans salute with the back-of-the-hand outward). One day I had an interpreter with me; this guard was keen to have the interpreter explain that the guard was once a member of a division raised by the French. I can't recall the division number, but the guard claimed it was a "crack" division. Somehow he thought that I would think better of him for his service to the French.

He simply puzzled me.

Now I think he wanted to establish a closer relationship with me and didn't know how to do it. I was not fond of what the French had done to their former colony. I understood that many Vietnamese simply saw Americans as "French with money" as a Vietnamese soldier told me one day.

The middle-aged guard seemed to be exhibiting both an almost instinctive desire to draw closer to me personally while yet he may also have been looking for some preferment as I was the officer in charge of Team House security. Was he looking out for "Number 1" or was he hoping for friendship? I never found out. I went home, and maybe he continued to be employed by the Americans until 1973 when all American soldiers were withdrawn. We went back to our communities. I wonder how he felt when the Communists won in 1975.

I do know that on February 23, 1970 I was shot down in a helicopter by the Viet Cong. The co-pilot was shot through the head, and he sprayed blood everywhere. When I got back to the Team House, I finally noticed that my boots were caked with blood. Of course, I had been shocked by what had happened, and I didn't think about the boots at all although the odor of the blood was pungent like the smell of propane gas. The next day I put on my other pair of boots. When I returned to the Team House for lunch, "Mama-san" jumped up when she saw me and started talking very excitedly. She kept pointing to the blood-soaked boots. I realized that I had left the task of cleaning the dead pilot's blood off my boots to her. She seemed genuinely concerned about my welfare.

I was embarrassed by the woman's expressions of solidarity with an inconsiderate American.



Edward A. Hagan is Connecticut State University Distinguished Professor of Writing at Western Connecticut State University. His work has focused on Irish Studies and war literature. To Vietnam in Vain: Memoir of an Irish-American Intelligence Advisor, 1969-1970 will be published by McFarland Publishing later this year. Hagan's previous books include Goodbye Yeats and O'Neill: Farce in Contemporary Irish and Irish-American Narratives (Editions Rodopi, 2010) and High Nonsensical Words: A Study of the Works of Standish James O'Grady (Whitston, 1986). His journal articles have appeared in New Hibernia Review, Irish Literary Supplement, Connecticut Review, and Mississippi Review.