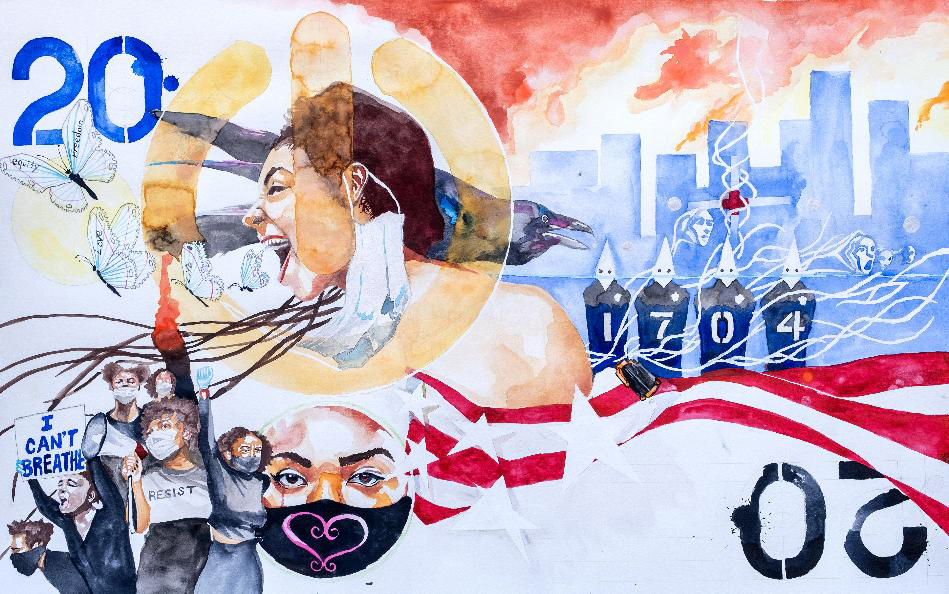 In 2020, the world shifted into something unfamiliar to this generation. The world was thrown into a pandemic as misinformation ran rampant, confusing any efforts to slow its spread. Wearing masks to slow the spread of the coronavirus became a political issue. And lockdowns tested the nerves of an already volatile population.
In the midst of this, the murder of George Floyd became the straw that broke the camel's back in the fight against police brutality. Calls to defund the police in order to enable other emergency professionals to deescalate tense circumstances became a new rallying point. People around the world joined in protest to the disproportionate violence against Black people at the hands of those sworn to protect. Risking infection from the deadly coronavirus, protesters put it all on the line to bring light to America's darkness.
The slave-catcher origins of America's police system was brought to light. The highest levels of government offered racist and violent solutions to stop the protests. Saboteurs were caught on video starting fires and looting businesses to detract from the validity of those who'd taken to the streets. And spurred on by the violent and racist rhetoric of political leaders and news pundits, many atrocious acts were committed against peaceful protesters by everyday people and law enforcement alike.
In this piece, the artist tries to capture that moment in time. A protester is in the foreground, superimposed by a power symbol, her protective mask dangling precariously from her ear. From her mouth springs notebook paper butterflies bearing words of affirmation. On her shoulder, facing the opposite direction, is a raven. In its view is a city burning. Police officers wearing white masks stand in the middle of this, as a gas grenade is being discharged and ghostly facing scream in the smoke. The year of the first known official slave catching force, 1704, is emblazoned on the officers' chests. A cross with a medical symbol burns behind them.
On the other side, protesters hold up signs that say, "I can't breathe" and "Resist." A face stares out from a circle wearing a mask bearing a sankofa adinkra symbol, meaning to walk forward while learning from the past.
This piece is a statement that says that America was unmasked during a time when the world demanded that everyone wear a mask. The artist felt this peace was important to submit because there is an effort to sanitize American history. He feels that unless history is taught truthfully, it is doomed to repeat itself. No rosy vision of the future is possible without honest reflection. Once that is done, we will arrive at the starting line of what could be a beautiful tomorrow.
---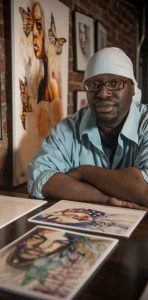 Editor's Note:
Just as this issue was being released, we received the sad news that our contributor and cover artist for Center of Gravity, Natiq Jalil, passed away unexpectedly. Natiq was only in his 40s. He was an inspired artist, a loving family man, and a kind human, bulging at the seams with talent and artistic aspiration. He had a big, warm smile, and an even bigger heart. His talent was prodigious and engaging. He had a deep commitment to art as resistance, aesthetic beauty, and social commentary. The best thing we can do is let his own words speak for him.
"I hope history remembers me as one who defied the odds, and constantly battled against mediocrity—one who broke the mold of what it means to be an artist with no boundaries. I am passionate about my work, and seek to focus more on the feelings of a moment —its intensity, its happiness, its sadness, its utter confusion and its elusive clarity—than on copying what I see. If history remembers me, at all, I hope it remembers that not only did I truly live through my work, but my work was meant to help others to truly live."
~Natiq Jalil
Natiq will definitely be remembered and in the way he wanted. He will be missed.