These photos are part of a project documenting the sacrifices of Kurdish Peshmerga in the fight to put down ISIS. The project has taken me to the provinces of Iraqi Kurdistan. Speaking with several hundred Peshmerga, taking intimate portraits of the wounded fighters, their families, and documenting both the stories in the battle and their ongoing struggles to navigate post-conflict life. Fighters who took up arms, not because they were required to do so, but because it was right and it was what had to be done. Almost all of the men showed severe physical injury. Arms, legs, and eyes lost. Bodies so riddled with bullet and shrapnel wounds that simple movement created wincing pain. These men also showed the signs of the heavy burdens of the mental traumas, of PTSD, and of memories that would not leave them. They would do this for their children, their families, their people, and the wider world. Tragically, their suffering does not end after having returned home. The men face new challenges, such as getting prosthetic limbs, ongoing care, providing for their families despite their debilitating injuries, and more. They wonder, if they would give everything to help protect the world, will the world help them or forget them now that they have put down their guns.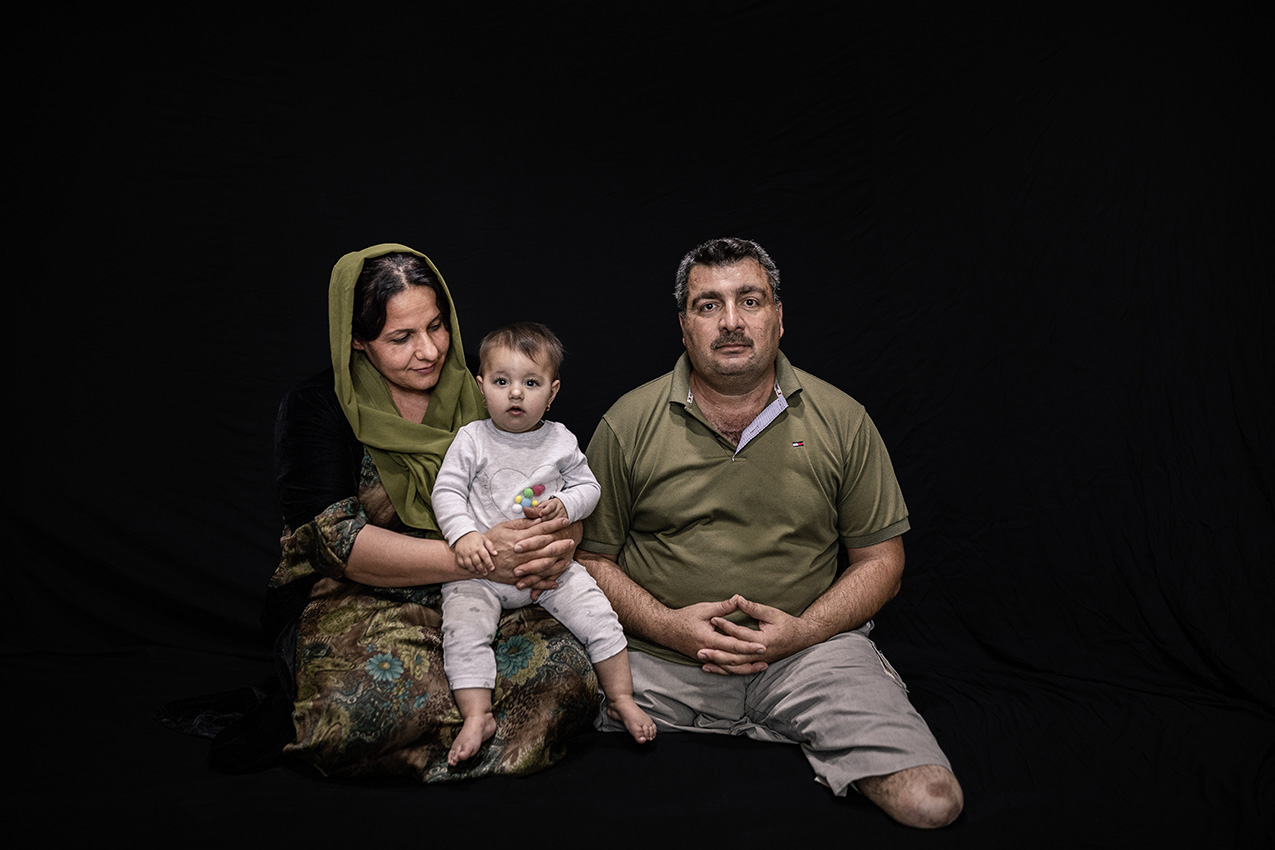 Hazhar Nader Hassan Fathallah, 41, and his wife Sheler Abdullah Hassan, 37 and their baby. He lost both his legs to an ISIS improvised explosive device in September 2014 in Makhmour in Mosul province. Beyond the loss of limbs, Hazhar struggles with PTSD which has made him quick to anger. He is plagued by persistent nightmares of being on the battlefield, alone, without ammunition, with ISIS closing in. With physical limitations and PTSD, he recognizes the toll the war has taken, not just on him, but also on his family. Hazhar's wife helps to support the family both by working outside the home and within it, by tending to her children and husband.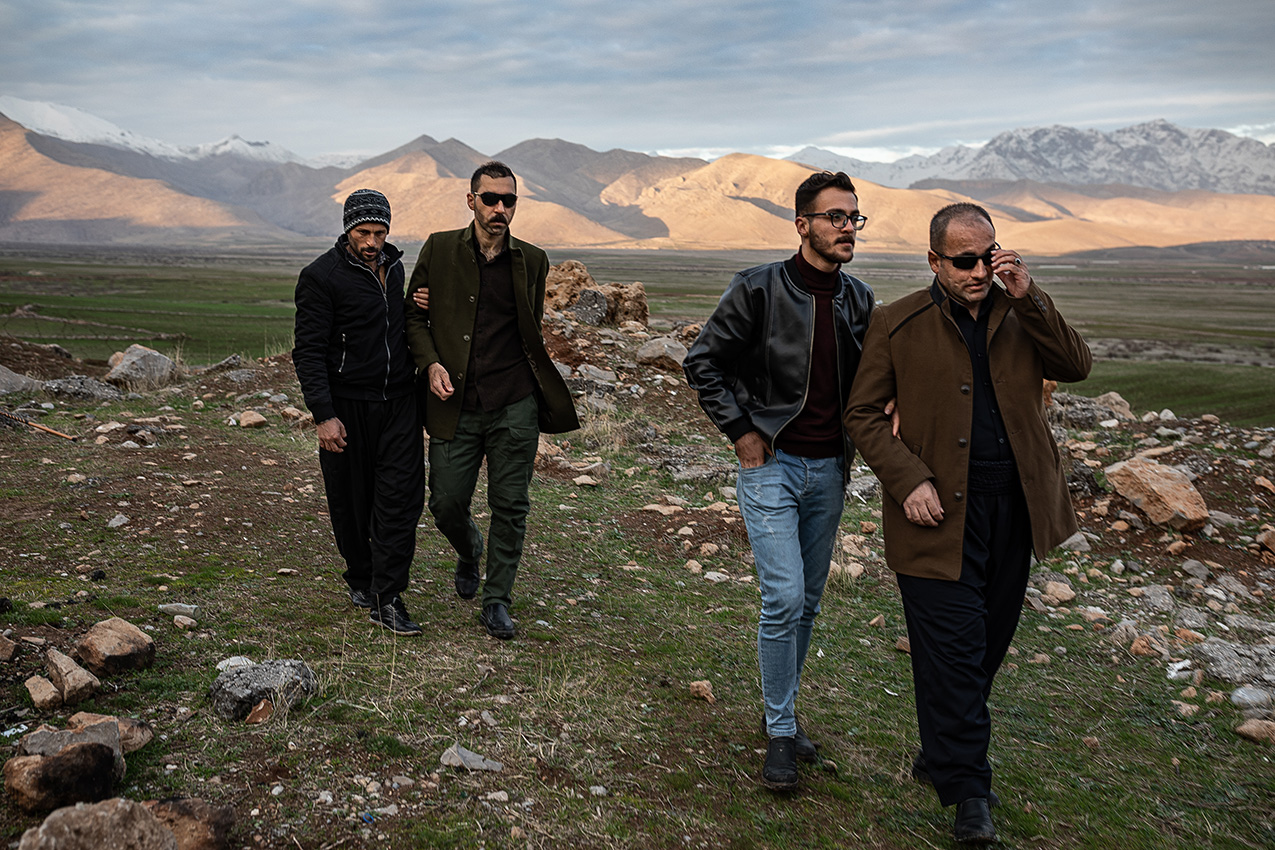 Hawar Loghman Oghez Hossien, with his brother (middle) was born in 1992; Abubakr mina Hama with his son (right front) was born in 1985. Both were wounded while fighting ISIS and lost both eyes. Both of them have a 100% disability. After they were wounded they found each other and become friends; they visit weekly with help of their family because they cannot walk alone.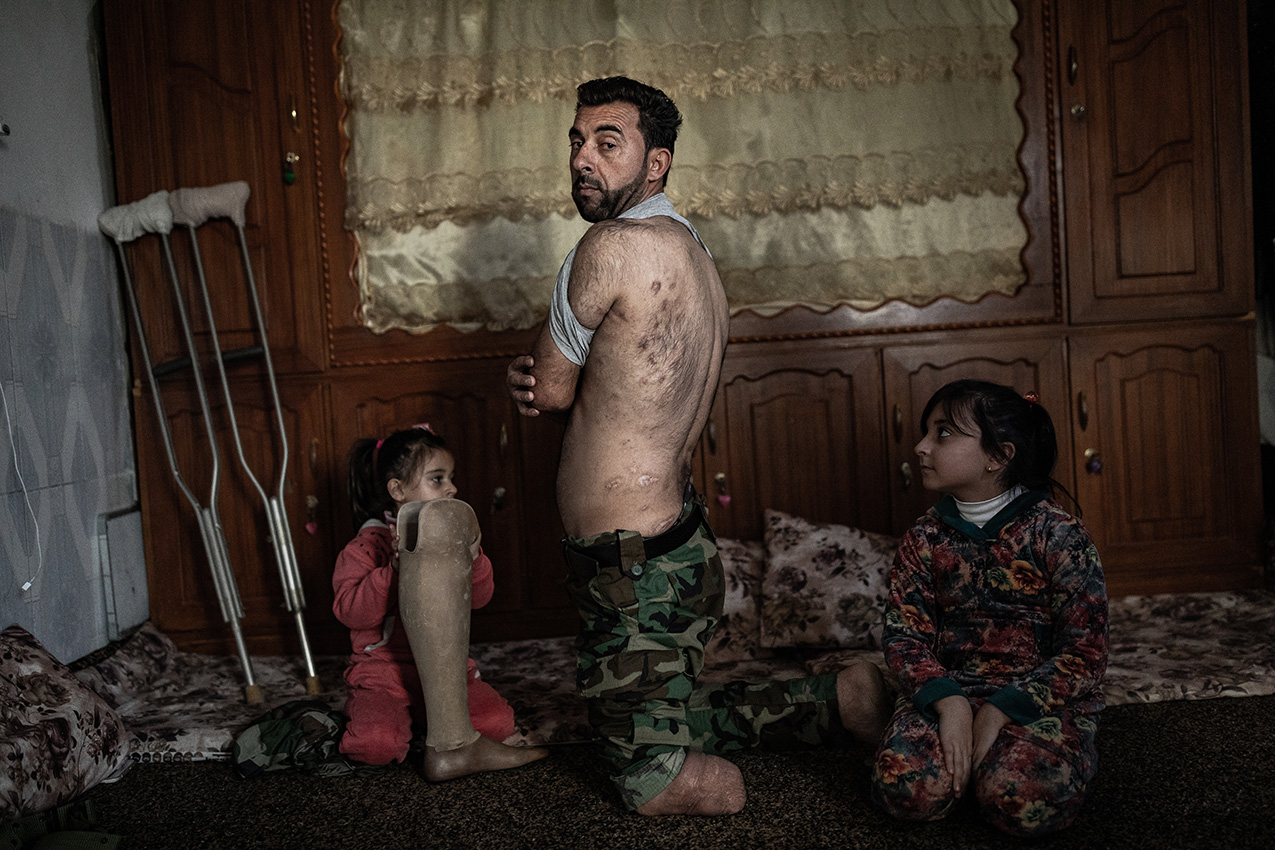 Weshyar Aziz Maghdid, born in 1981, with both of his daughters, Rayan, born in 2011 (right) and Rozhin, born in 2015 (left). He is Peshmarga since 2006, and was wounded while fighting ISIS in Aug 2014 in the Qwer area in Mosul Governorate. He was wounded by an IED while driving at the frontline, losing a leg and being injured by shrapnel over much of his body. He has three kids and he has a 95% disability.