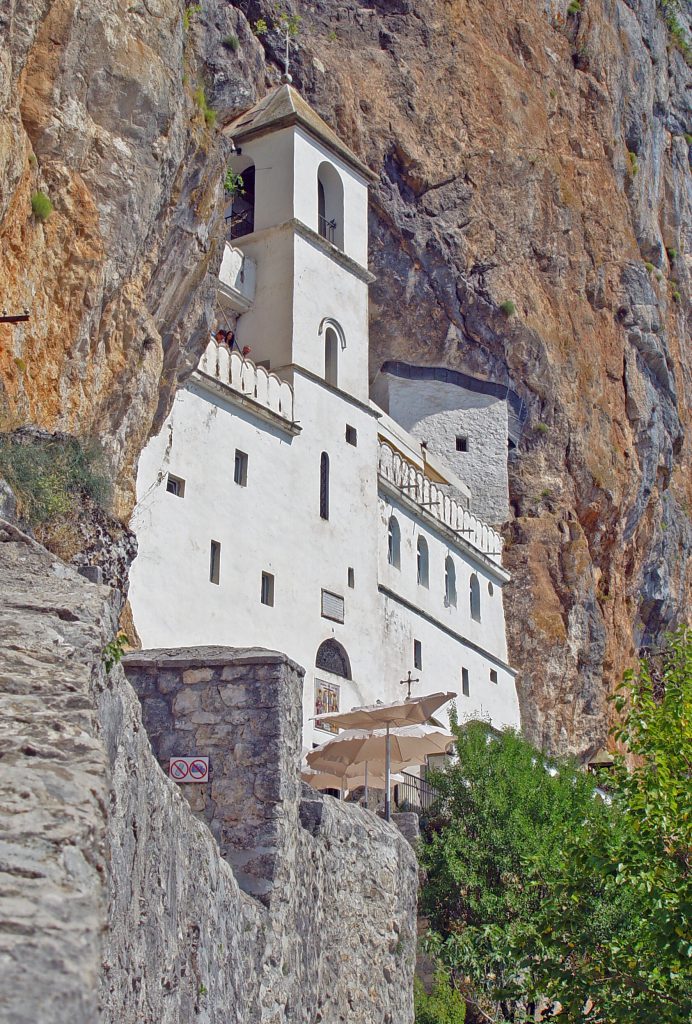 OSTROG MONASTERY
"Now we climb."
My husband and I were on a day excursion to Ostrog Monastery. Our tour guide had just announced that the last part of the journey was about to commence.
We had caught the bus around dawn in the port city of Budva in Montenegro (formerly part of Yugoslavia). Everyone on the bus with the exception of us spoke Russian, and was on pilgrimage. Yet they didn't present as I imagined a typical pilgrim might look. They were tanned, heavily-perfumed, middle-aged women with cheetah-pint scarves and chunky necklaces nestled in abundant cleavage. They quickly stubbed out their cigarettes before boarding the bus.
We'd read about Ostrog Monastery in the guidebooks where it was described as being beautifully situated, literally carved out of mountainous cliffs that spine the country's interior, and that the embalmed corpse of St. Basil, the church's founder, was on display in the cave nave. My husband and I have a thing for the macabre. Just as some travelers build itineraries around monuments or World Heritage sites, we never pass up an opportunity to visit catacombs, ossuaries, graveyards, and reliquaries containing various saintly body parts. This compulsion is almost a fatal attraction, a Ripley's-Believe-It-Or-Not relationship where curiosity compels and reality repels. It is the same impulse that drives us to watch Saw II; even as we cover our eyes, we cannot look away.
So far we'd checked off our list the head of Blessed Oliver Plunket in Drogheda, Ireland, the thumb of St. Catherine of Siena, and the alleged heart of St. Clare. It took two different buses to see all of St. Agnes. Her decapitated body lies in state in one church while her head is displayed across town at another basilica in Rome. We've traipsed through graveyards in Paris (the immense Père Lachaise!) and gotten lost in an old cemetery in Oslo looking for Munch's tombstone. We visited for us the equivalent of an American Girl store when we ducked into the Capuchin catacombs in Palermo, Italy where the skeletons are dressed in historically correct fashions. An entire church a little bit north of Prague is decorated with skulls and bones. Above the altar hangs a huge chandelier comprised of phalanges. In a chapel overlooking the city of Gubbio in Italy, we discovered the corpus of St. Ubald in a glass-domed sarcophagus. Though said to be incorruptible, his skin had darkened over time.
The trip by motor coach to Ostrog was two and a half hours. As we drove higher and higher, we went from paved roadways to a gravel single-lane. Roads way too curvy for a full-size motor coach—or any vehicle for that matter. I prayed we'd make it to the monastery alive.
The bus pulled into a broad parking lot. It was with great relief we disembarked into a thick cloud of diesel exhaust and pilgrim cigarette smoke. "Now we climb," our tour guide informed us.
I tilted my head. The monastery and cave church blended into the white bluffs above us. Centuries ago, hermit monks had excavated a chapel and living space much like how pigeons or doves build nests in insurmountable crevices impossibly high. Steps cut into the mountainside, zigzagged across the rock face. I hadn't brought the right shoes.
"On the knees," our guide continued in broken English.
Well, in that case—who cares about shoes!
"But," our guide went on breezily, "no more people go on knees."
Thank heavens, I thought, because without kneepads our skin would have been in tatters from the broken glass littering the walkway.
I noticed that none of our fellow travelers took the unction seriously—though a few of the Russian pilgrims were proceeding slowly and at various stages or stations paused for a meditative cigarette break. Staring upward at the monastery clinging like a cloud to the cliffs, I realized that Ostrog wasn't for the tourist, but for the pure of heart.
As we walked, stopping intermittently to catch breath and sip water, we enjoyed views of the valley far below and the monastery shimmering above us bleached under the noonday sun. The higher we went the smaller the bus in the parking lot became. After huffing and puffing we reached the base of the monastery and cave church where there was—of course—a gift shop! It too was carved into the white rock façade. The shop was congested with pilgrims buying candles and palm icons. I browsed while waiting for our timed admission, picking up a St. Basil pencil from a basket. It had a flowing silk tassel on the eraser end.
The candles were ten for five Euro. I found my husband snapping pictures and asked for his wallet. "I want to buy a pack," I said.
He did the math in his head. With the conversion to dollars that was close to a dollar per candle. "They must have some kind of mojo," he said, reaching into his back pocket.
"It's a donation," I said by way of explanation.
But before I could buy them our guide came to usher us into the cave chapel. My husband had to stoop to fit through the low-lintel doorway. The Russian women gathered their scarves and covered their heads before entering. We wound our way through clammy tunnel-like hallways; the confined space reeked of body odor commingled with sweet incense—much like a deodorized locker room. Finally we came to the Chapel, about the size of a garden shed, where at one end the altar was lined with rows of smoky tallow candles. The Russian women jammed their candles into holders and lit them all the while mumbling prayers. This wasn't my tradition—the veneration of icons, the candle lighting, the kissing and bowing. I was here mostly to see the mummy of St. Basil.
There he was in the shadows. At first Basil appeared to be a pile of dusty cloths, but then I discerned the outline of a doll, a doll with a face the color of a walnut. His 400-year old body was preserved like fish is smoked and dried. As we filed by the open coffin the Russian pilgrims in front of us wept as they bent low to kiss his withered lips.
In a fit of claustrophobia (or fear of necrophilia), I rushed past old St. Basil. We burst out into blinding sunlight and fresh air. "Ewww," I gasped, trying to shake imaginary spiders off the back of my neck.
On the walkway down, my husband and I exchanged a few words in English with the tour guide. "You like?" she asked.
"Yes," I lied, "the church was lovely."
"St. Basil is very important figure. He helps in our time of need."
"Sort of like a super hero," I said, testing her knowledge of pop culture.
"Yes!" she said, without a trace of sarcasm.
***
Now, late at night sometimes, when I'm lonely and afraid to sleep, I find myself thinking of St. Basil, resting there in the dark. Take me back to Ostrog, I seem to say. I promise to light a candle, hundreds of them, to kiss your lips, and not to rush by.
Jane Hertenstein's current obsession is flash. She is the author of over 30 published stories, a combination of fiction, creative non-fiction, and blurred genre both micro and macro. She has published a YA novel, Beyond Paradise and a non-fiction project, Orphan Girl: The Memoir of a Chicago Bag Lady, which garnered national reviews. Jane is the recipient of a grant from the Illinois Arts Council. Her work has appeared or is forthcoming in: Hunger Mountain, Rosebud, Word Riot, Flashquake, Fiction Fix, Frostwriting, and several themed anthologies. She can also be found at http://memoirouswrite.blogspot.com/