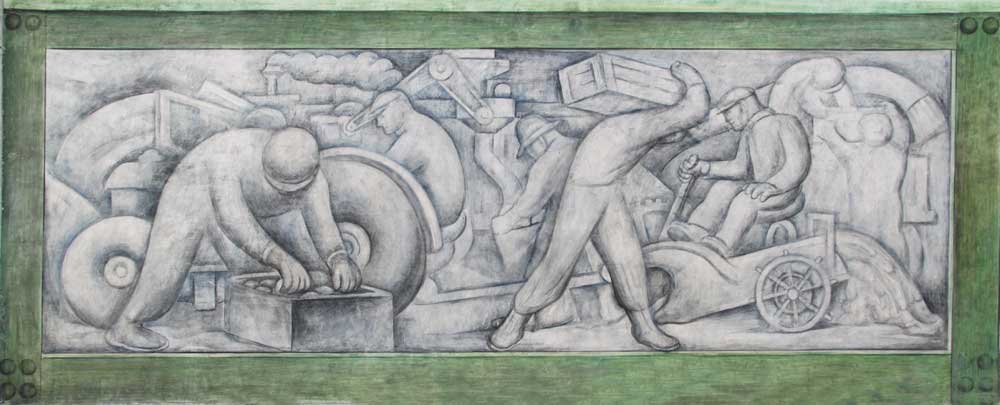 MILWAUKEE, GARY, FLINT
On the residential streets of industrial towns,
no one says hello between 11 and 4,
but mothers to each other, allies
against the damaged and downsized
men who kick pebbles and stare past what is here.
What is here?  The steel plant closed
and moved to Juarez. A discount shoe store's
sprouting branches in town, hiring girls
to model sneakers.  The radio announces
another job fair at the Tech.
At 2 pm, a woman from the grouphouse
chants, "buth, C'mon buth!" and always gets her ride.
Old men emerge from bungalows to kill
a few hours at the VFW.
An adjunct from the U. scans the bus,
watches a murder of T-shirts swagger
on, aiming down the Minnesota pipeline
to drift through heatless warehouses in broken cities,
survive on drugs or tricks,
until they don't.
Hooker, lawyer, mechanic,
a fraction of this town has enough work.
Some say between jobs and wrench
the engine of a stalled career;
some blame government and join militias.
All rise, splash off their waking dread,
make lists for the week or day.
Breathe, eat, sleep.
WANT ADS
We are an award-winning provider of integrated services that help clients align initiatives with short and long-term strategic content-free business objectives. We have an immediate opening for anyone but you.
20 years of experience in (SEO, CSS, php, SQL) or ¥$Ω%∑ essential (you tool! We hired an inside candidate two months ago. 😉
Want to get in on the ground level of something BIG? How does 100%+ growth for 8 straight years sound? If we need to list specific types of experience, though, you're not the right candidate. If you have to ask what Linkshare, Performics, and Commission Junction are, you must be from Mars or old. Can't you read? Don't apply. If you're still reading by the end of this ad, we've installed spyware to notify the police.
Must be a highly dynamic people person and team player, obscenely pumped and oddly tan, with proven track record of enthusiasm for marketing over-packaged endocrine-disrupting personal care products. Leave your mark on the world! Contact jenn@sojackeduponmeds.com.
Follow your bliss! This exclusive opportunity will never pay rent or lead to a career, and you can't eat candles or paintings, but you may not have long now, so why not? Join us at www.onlinecashpump.com.
Author Biography
Allison Cummings has published poems and essays in a number of literary magazines, including Passages North, Puerto del Sol, Earthspeak, So to Speak, and others. She has been an editor at The Madison Review and at Amoskeag, a small literary magazine from Southern New Hampshire University, where she now teaches.  The above poems are from her current manuscript in progress, Occupations, poems about work and being out of work.