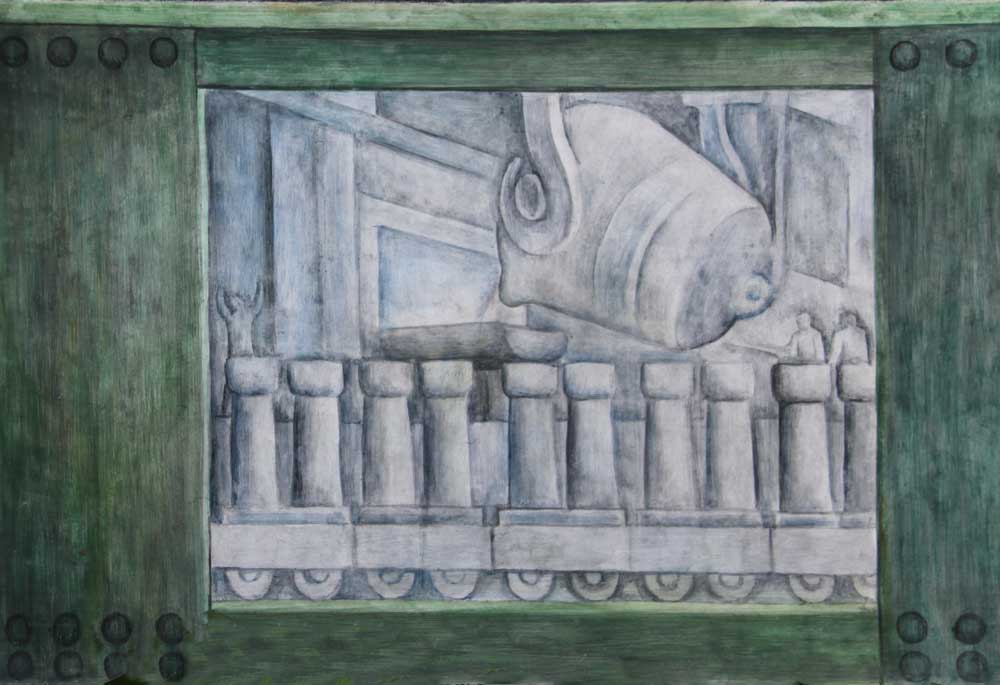 DARKENING SKY ABOVE GARAGES
You must not think when dawn comes
there's no beauty in the city. Big shoulders
shine mirrored in towers, in sheets of light:
copper glass in flames behind the grime
of bus windows. We pass through that fire.
Do not believe there's no beauty in the dusk
darkening sky above garages, western suburbs.
Pale green and melted yellow streak
across the stage of sunset: back porches
up on third and even fourth floors of brick walkups.
Sun moon dusk dawn – we have them in the city.
Stars fall from the urban sky, land on solid ground:
sidewalks sparkle diamond mica jewels
under our shoes, concrete silica glitter shines
for moon, for sun, for mercury vapor lamps.
Grasses grow along the tracks, bending low to wind.
Commuter trains race Queen Anne's lace. Milkweed
and wild rye live here in the city, where silver rails –
one, two and the deadly third, speed our fast riding
passing trees: night and morning, night and morning.
VIVALDI IN CHICAGO
Snow falls here, on front stoops and in the streets
snow blankets sloping fir trees, sculpts squat fire hydrants
builds small mountains on cars – parked, silent, stolid
in the city snow clouds gritty secrets, softens our hard heart
so we keep it; we bulldoze the snow, it's our nature
we push it into crags so dense some stay through April
looming over bus stop corners, hiding
street signs so we lose our way, amazed by snow
In the city spring rains sweep the baseball field
drenching tough grass at the edge of the diamond's
hardpacked dirt where gulls huddle inside themselves
feathers slicked, heads tucked, spaced carefully
one from one from one, they wait while traffic
roars by on Lakeshore Drive, washing dark waves
over striped curb boundaries; gulls and stripes
the elegant patterns of metropolis
Great flocks of pigeons
city birds that sleep with trains
rise into summer sky over the park
swoop stone lions on museum stairs
moving like a wing in the air
they land at the fountain in the sun
dip to drink and splash; here in the city
many have green satin throats
Fall scours the air. If you climb Hancock, Sears
or even the Ritz, look down from tall buildings
into the clear city night, topaz glitters from lake
to western sky, headlights streak the boulevard
where planted trees strung thick with tiny stars
blaze their small white fire; streetlights far
from the peak you stand on shine into your eyes
like music sounds inside your ears, in the city
Author Biography
Judith Arcana writes poems, stories and essays; her books include Grace Paley's Life Stories, A Literary Biography, the poetry collection What if your mother, and the poetry chapbook 4th Period English. Forthcoming in 2012 are The Parachute Jump Effect and the old woman poems; Judith's working now on stories about Chicago's pre-Roe abortion underground – and tattoos (Hello. This is Jane.). Born in Cleveland and raised in several cities of the Great Lakes region (where she lived nearly fifty years), Judith writes in Portland, Oregon, in an apartment upstairs of her neighborhood library. Visit her website: juditharcana.com.